Iowa City, Iowa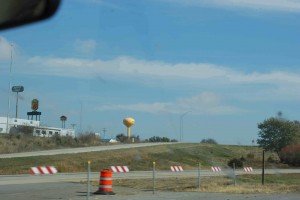 I had the camera ready when we stopped at the bookstore in perhaps the nicest find of a city in our passage across the country: Iowa City. We entered town from the north, along a significant river, and parked next to what turned out to be a pedestrian mall. This walkway, which ran north as well as east and west, and was flanked on one side by the clean granite walls of the public library, had a large playground in the middle of it. Rika and Felix stayed there while I headed north one block to the Prairie Lights Bookstore.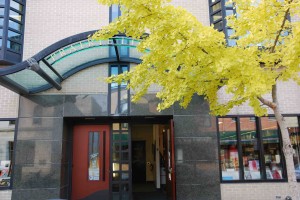 Prairie Lights is one of the great bookstores in the United States. And a lot of the credit must go to Paul Ingram, to whom I will always be grateful for insisting that I make sure the book was available on Ingram (or else most bookstores would not give us the time of day). I did not know his last name, in fact, until just now when I looked up the bookstore, and can only chuckle at his coincidental last name. Paul welcomed me and took a good look at the book. His mind works in the way that I think all great booksellers' minds must: in connections and peregrination. After I told him we had visited Red Cloud, he told me about a book they had carried that featured letters (and photos) sent back East from pioneers on the prairie. And before I left he sold me on a book called Girl Factory by Jim Krusoe who teaches just down the street from where I live, at Santa Monica College, because he remembered me saying I lived there. It is a paperback, but beautifully bound, with deckle-edged pages (I have only read page 1, so I cannot comment yet on the quality of the prose).
That night we took Route 20 (longest route in the country) about 6 miles, along the river again, and into the outskirts of Iowa City, to a Japanese restaurant that was really pretty good.
Chicago, Illinois
Chicago was time off from selling. We planned to visit Rika's friend in one of the suburbs. Furthermore, I had low expectations for finding buyers, despite the sterling reputation of the area's many bookstores. Chicago only appears once or twice in A Journey Through Literary America. There is not one featured author from there (a gap I felt keenly as I contemplated conversations with imagined brusque shopkeepers). Chicago really was on the list, but it was one of the destinations that unfortunately fell by the wayside.
We got off the highway still a little early to see the friend, so we stopped at an Ikea nearby, a good inside place for Felix to stretch his legs. As we came out I saw my first geese of the season, flying south over the massive expense of the Ikea building and parking lot. I have missed the migration of geese since I've been in California. Those regrets were stirred up again when I read the The Echo Maker (mentioned in the blog posting that includes Kearney, NE if you want to loop backwards a few hundred miles), which features some truly moving passages about the thousands of cranes that briefly make their home on the Platte River.
The visit was nice. Driving to our Hampton Inn near the Midway Airport was not. We'd been hoping to have steak at one of Chicago's famous steakhouses. But by the time we finally got in, we realized that would be more frustration than it was worth. We had two nearby choices.: TGI Friday's (which I have a low grade loathing for, but would consider eating there in a pinch) and the appropriately-named Dempsey's. Tamra should be proud. Dempsey's turned out to be a welcome find. We didn't have steak, but we didn't suffer from waiters reading from a tiresome script or food that was designed in a boardroom, either.