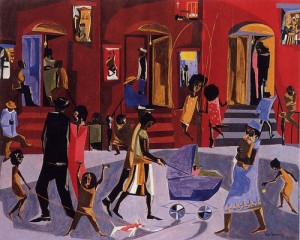 I have been remiss. Yesterday (February 1) was the birthday of Langston Hughes and the kickoff to Black History Month. Hughes was born in Joplin, Missouri, at the beginning of he last century. He lived briefly in Mexico with his father, whom he disliked intensely. He was "discovered" in Washington, D,C, by Vachel Lindsay when, working as a busboy at the Wardman Park Hotel, he slipped a few poems to the Lindsay in the dining room as the august poet was eating dinner. Although by that time Hughes had already won awards for his writing, he was briefly celebrated as the "busboy poet." Hughes's poetry was often deceptively simple. His life was also rich with ironies. There was that breakout moment at the Wardman Park Hotel. Later, there was a wealthy white patroness in New York City who decided that Hughes was her vehicle for uplifting the African American race. Hughes would riding to performances in her limousine during the days of the Great Depression, while others slept on park benches, and realized he wasn't cut out for that kind of plush life.  His poetry suffered.
Both Hughes' life and his poetry were rich with the suggestion of jazz and blues—an art form he came to admire on 7th Street in Washington D.C. and in the halls of Harlem. He was a key figure in the Harlem Renaissance and became an institution in the neighborhood. As an ambassador of his race, he was peerless—liked and respected by black and white. He was also pretty fearless. His poetry has a resilience, approachability, and bounce, in tones of joy and sorrow. His place in American letters is assured.
Some links:
1.  Busboys and Poets Restaurant and Bookstore in D.C. and Virginia
2. Hughes on Haiti from Foreign Policy
3. A bit of Hughes-flavored uplift in an economic downturn
4. Recently discovered poetry of Langston Hughes, revealing a depth of anger he rarely displayed, but that he was unafraid to confront.
5. Jazz collaboration with Charles Mingus and Leonard Feather.
TRH