Hudson to Binghamton was a long stretch of empty highway, often squeezed down to one lane in each direction (though TARP was not officially credited) with some of the tiredest looking traffic cones I have ever seen. The view from the highway was of trees, more of a mix of firs than I had seen, the occasional Quonset hut, of exits for towns like Panama and Cuba and Coopers Plains (which I thought might have been a model for Fenimore Cooper but might actually be named after an Australian town), some beautiful, stark countryside. As it grew dark, the signs telling how many miles to Binghamton ceased. It was with great relief that we finally entered the outskirts of the connected communities of Vestal (where my mother was born), Endicott, Johnson City, Binghamton, and Chenango Forks. Once mighty manufacturers of the Empire State, they are now remnants of their former selves. The people of these towns knew how to make things once. Great things. It is one of the heedless cruelties of capitalism that the factories that made the region prosperous have pulled out or gone under.
It was with an unbelievable sense of relief that we got off at the Chenango Bridge exit and called my Aunt Debi, who talked us in to her house, situated in a cul de sac, over a long hill. But my relief probably paled in comparison to that of Felix, who seemed absolutely in heaven at finding himself in a large house, with many toys, and a kind great aunt.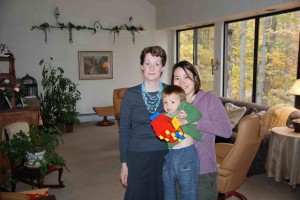 Cooperstown, New York
Cooperstown was a mandatory stop on the tour both for the Baseball Hall of Fame and for its literary significance as the location of James Fenimore Cooper's father's house (the town is his namesake) and destination of Richard Ford's Frank Bascombe. In fact, the entries on those two authors happen to be the first and last, respectively, of the book. All along the route from Chicago to Cooperstown, we had been on the same latitude, and had seen many V's of geese winging their way south. On the way we passed an old silo with a huge rent in its side, and an old farmhouse that looked as if it had been stove in by the falling of a giant tree. We passed through a town comprised of fine old houses, lining each side of the road like teeth, in various states of repair. I came to Cooperstown once as a child (my parents finally relented after our endless campaign) and remembered that the drive from he highway to the town seemed too long. It still did, but not so much for me as for our schedule.
In Cooperstown, I snapped a picture of the geese resting on Otsego Lake, which Fenimore Cooper, at his lyric "painter with words" best, dubbed Glimmerglass Lake.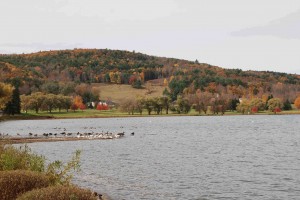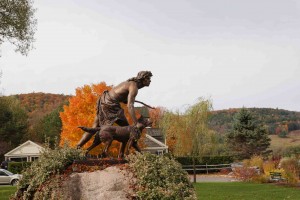 The town gave me the impression of a place enslaved by tourism. The shopkeeper at the bat store I went into seemed like he family went back generations in Cooperstown, and that she would have made a fine farmer, or clerk. But there she is selling bats to the great unwashed. The Baseball Hall of Fame has a luster that the bleakness of the season and frigidity of the air could not dim. It is a luster that was lost on the extremely antsy Felix but felt, here and there by me.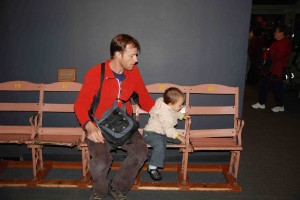 I do not mean to romanticize the sorrowful decline of the region and, in the process, belittle the upstate New York region. But I feel I need to bring it up because there, in Upstate New York, which we had been visiting since I was a baby, I finally felt like I was among my people. I felt it more there than anywhere else on the trip (though I had started feeling it as we crossed into Ohio). On our way out, we passed that farm with the rent in the silo and the collapsed house. I wanted to take a picture but I didn't. For one thing, the house had passed by fast. For another, even as we slowed, I saw that there were still people living on that property. They'd constructed another dwelling but perhaps, I thought, left the ancestral home as it had been smitten.
When I was younger I felt like I knew the spirit of America, could taste the air of America. I went looking for that when researching the book and the visceral sense of it I had felt as a child and a young man eluded me. In upstate New York, it seemed like I found it again. Part of its essence is the lurking tragedy that seems to stalk the region, along with the beauty of its agrarian regions, and its old towns and cities. Perhaps that "America" feeling I had in my youth is something that I outgrew, like the idea that I might become wealthy, or famous. Or perhaps it's just that I conflated America with towns in upstate New York and the well-preserved towns in Vermont where I grew up. Whatever the truth is, it was comforting and bittersweet to travel through the region once again, on the final stretch of the trip.
The wonderful thing about a cross-country trip is that, by the fact it has a beginning and an end, and a lot of rough terrain in the middle, it takes on dimension, creates its own story. On the day we slipped into the driveway of my parents' home near Boston, Massachusetts, while they sat visible in the front windows, having cocktails, I felt that we had brought the epic journey to a satisfying close. We were 3,700 miles from where we had started and were coming, in a sense, home.